Traditional Art by Nina Andrews
Posted: Wednesday, August 1, 2012
Art Experience

Nina has studied art, all throughout school, and teachers college. She has attended numerous workshop and summer schools, with some of Victoriaís top artists.
She has exhibited in Art Exhibitions throughout Victoria and is currently showing at Netherbyre Gallery in Orbost.
Her prize winning paintings are extensively represented in numerous private collections throughout the world as well as in Australia and the Moira Shire Councilís permanent collection at Cobran, Victoria.
Click on an image to popup a larger view: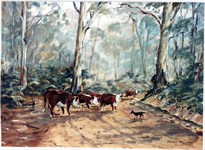 For further information:

Nina Andrews
PO Box 196
Orbost Victoria 3888
Australia
Ph: 0351 542 064